Quilt Show



New from Italy

Hello, I'm Niky from Italy.
I would like to tell you that I've showed your Fine Collection book to some friends and they liked it very very much, I've already stitched something from that and your design looks really wonderfull stitched!!! I put one of your Loose Feather Club patterns on a box and another one on a frame, another one on a pillow, on a box and another one on a frame, another one on a pillow, they are nice, I like your style so soft an very different.

Nicoletta Farrauto
Niky's "Emblem of Friendship" and "Glad Tidings" are patterns in our new booklet Tokens of Friendship. We love the bag Niky made from the "Glad Tidings"
sampler! The addition of the three buttons on the bottom of the bag is just the right touch! The heart pillow is made from "Truly Thine", a Loose Feather Club pattern. Niky, thank you for sharing your lovely work!
Alma

We adapted your "Stars and Stripes" sampler for use as a band on a picnic basket that will be raffled off as one of the fund raiser baskets for Stan Hywet Hall and Gardens. The Stan Hywet Needlework Guild appreciates your allowing us to use your design as the
base for our picnic basket band. One picture is of the basket assembled with all of its contents - your design on the band and on the jelly jar lids (for salt & pepper & condiments) - the picnic throw is quilted and the Uncle Sam is cross stitched. Also included are wine from Stan Hywet, wine glasses, plates, silverware, etc, and a gift certificate from Stan Hywet's cafe. (The piece of the band laying on the picnic throw goes on the back of the basket.)

The second picture is a close up of the band pieces and the jelly jars. Your design was a perfect complement for our patriotic basket, and was fun to stitch. "Mayfair" is the name of our show.

We thank you so much for allowing us to adapt your design. I hope you like the way it turned out!
Sue Fassoles
Bright Bouquet quilt from Lovina's Pressed Flowers
by Patti Black

I finally got the photo of my Bright Bouquet quilt. My daughter loves it and it does look really pretty. Too bad you can't see the quilting on each block with overdyed perle cotton. It really adds a nice touch. The background wool is flow blue over gray wool and the swirls are three shades of a blue spot dye over a white cashmere.
from Agnes DeaneGainesville

I did not get bored doing this design as I sometimes do with reproduction samplers. The fabric was particularly difficult to work with maybe because it
had no "sheen" whatsoever, but I am pleased with the final product and feel it was worth the effort using two Ott lamps to find the holes to punch! I have a wonderful framer that remembered this particular frame and immediately found the right book, ordered and framed it for me quickly. Everything fell into place.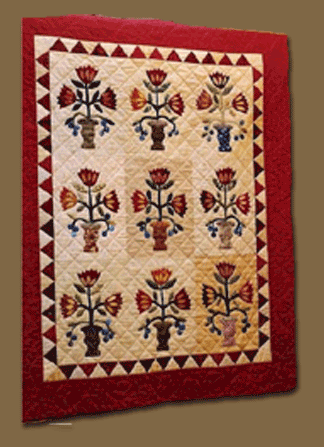 Sujata Shah finished her quilt top! This quilt is from Summer Weekend.
This quilt is shown on the wall in her dining room. Her quilting really shows well in this photograph!
Click on image
Beth Allan from Dartmouth, Nova Scotia, Canada sent these
scans for our web site. All 3 of these are from the book A
FINE COLLECTION and were done on 32 ct Natural Undyed
linen. The floss colors remain the same. Beth is married
& is a homemaker. She has been stitching for many many
years & thoroughly enjoys it. She is the model stitcher for
a shop in Canada. Thank you Beth for sharing your lovely work!
This quilt was made by Joan Collins.
She purchased the kit from Keepsake Quilting. She made this quilt after the sudden death of her only beloved son. Thank you Joan for sharing your beautiful quilt with us!
Betty McCulland has been busy! She is now working on the rug from HIGDON CAMP..."Red Sky at Morning". Betty you will have to send another picture!
This picture was sent by Nancy Wakefield. It shows her full quilt that was pictured in SAMPLES FROM THE PAST. Only a portion of her antique black ticking quilt was shown on one of the covers. Her colors are wonderful! Her dogtooth border uses a black ticking fabric. She repeats the use of this black ticking fabric in her blocks.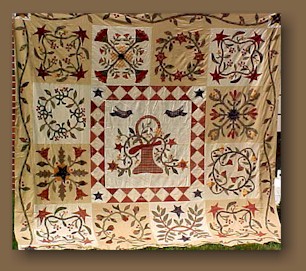 Joyce Gilles from Avon, Ohio, shares her quilt made from the SAMPLES FROM THE PAST series. Joyce changed the look of her quilt. She added the center, adapting the hooked rug pattern provided in the series!
This rug was hooked by Patti Black

click here
for her husband Charlie. Patti and Charlie live in Colorado and he loves to go fly fishing! The fish in Patti's rug looks like a trout to celebrate the fish that her husband always loves to catch. Charlie makes rug hooks in his spare time. They are lovely one of a kind pieces.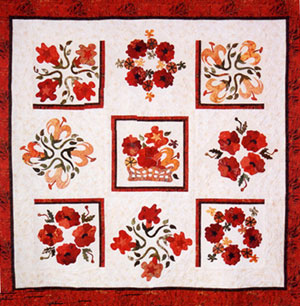 click here
Charlene Hauri from El Cajon, CA writes, "I just have to share with you my creation using the "Midnight in the Garden" pattern from the book FRESH FROM THE GARDEN. The slightly whimsical flowers were a welcome change from traditional flowers. Applique is my forte and this quilt was fun to make and turned out stunning! It will be an entry in the San Diego Quilt Show in August 2002."



Jerrianne Evans of Houston, Texas sent a photo of her adaptation of the quilt "Fern Rose" from the book NUTS AND BERRIES. She writes: "I call my quilt "Friendship Ferns" because the blocks were stitched by my friends in Lakeview Quilters Guild Friendship Bee."

Lynda Orme writes: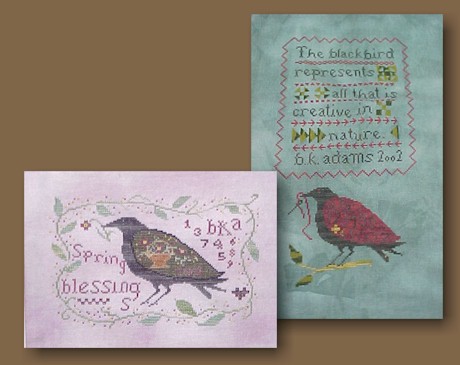 "I have completed two models of your cross-stitch designs in my shop. I thought you might like to see the fabric I used for the models.
The purple-pink background is "Rhapsody" linen from The Blended Needle and the green-teal background is "Dragon Myst" from the same company. These models on overdyed linen have garnered a great deal of attention in my shop, Forever Stitching in Idaho Falls, ID. If you are interested in the fabric with the mottled look, you may want to check out The Blended Needle."
Jan Anderson has been busy!

"click picture"
She gave her permission to show her wonderful "Old Glory" quilt from SUMMER WEEKEND. We know you will enjoy seeing her colors! She has finished the center block from FRESH FROM THE GARDEN. This quilt is "Midnight in the Garden".
Barbara Drucker from San Diego, CA sent a snapshot of her quilt "California Basket Blooms".

She writes: "I thought you would like to see what happens when your "Blackbird" goes to California. I enjoyed making this wall-hanging. The colors just sort of happened. I do all of my applique by hand."

Lori Kramer

This was our donation quilt for the Mother Oaks Child Quilt Auction- a Hospice organization here in Salem, Oregon that supports grieving children. We had the highest bid of the night! This year we in the process of making your Samples from The Past Quilt with a squirrel and oak leaf border. Lori Kramer
~Circle of Friends Quilt Group
Last modified: Monday, May 24, 2004 email webmaster