May Notes
Just a couple of quick notes! Ella's Home Place is complete and arriving at
your local quilt shop! Barb and I will not be attending Spring quilt market or the Columbus Cross stitch Market in June because my daughter, Laura is graduating from high school. I just can't miss this event! She soon will be leaving for college at Belmont University in Nashville and I'm a bit sad! I guess she will just have to boss us around from afar. She's been a delight to raise.
This month we celebrate the friendship of seven stitchers! I recently received an e-mail from Angela who lives in Cyprus. She introduced me to her stitching group. The other group members are: Nancy, Barbara, Joni and Becky in the states, Riet in Holland, and Hazel in England.
They belong to a stitching group that communicates regularly through the web. They have been busy doing a stitch-a-long (SAL). This international group of friends just completed the "May Basket" design from our cross stitch book, A Fine Collection.
Some of them used GAST Rhubarb, as recommended, but as you can see, their end result is different from mine and quite original. The other colors are the women's' own choices. Also, notice how the 2004's all differ!! Their initial stitching instructions follow:
Okay, girls,
On your marks. Get set. Go!!
Tararararara. We are beginning our first stitchalong. A bit like the blind leading the blind but I'm sure we can make the rules up as we go (stitch) along!
It seems everyone is happy with any day, so we will go with Saturday. If everyone agrees we'll begin with the central motif of the basket. If anyone would prefer to start on the border that's fine. We'll all keep each other updated and all encourage each other.
Lets all give each other an introduction of the fabric and thread we are using. What time we start and maybe, how long we stitch for. These are just ideas. I might keep a diary & jot down any little snippets of gossip or bits of interestabilia!!
"Some friends with the very same thought,
All found the same chart they had bought,
May Basket, it's name,
To stitch it their aim,
So support from each other, they sought!!" Anon
Barbara: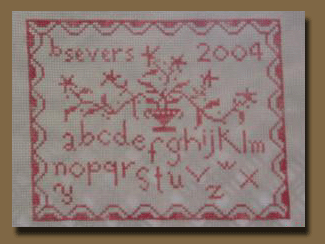 I am retired. I have been stitching for 20 years, I guess. I live in SW Missouri, down here in Ozark
country. May Basket was just a wonderful piece to stitch up...it was easy and fairly quick to stitch and I loved using the Rhubarb thread. I stitched the sampler while sitting with a friend in the hospital. My May Basket is completed now, as a tuck pillow, and will be given to Jewel, my dear friend, for Mother's Day.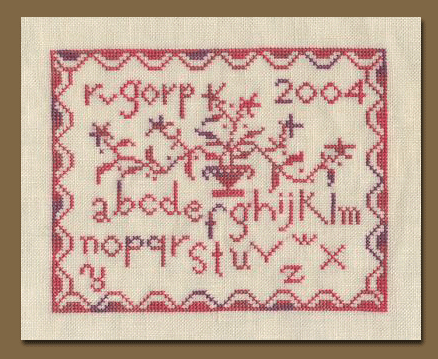 Riet:
About my May Basket I stitched it with Caron Waterlilies:Flame.Because that skein was in my stash and I thought that it looks like Rhubarb.What will you know more? I already stitch from when I was little, my mother did it and my sister and my grandmother. Since I have my job in the nursing home I do mostly stitching, it is the most relaxing for me. I live in Maastricht The Netherlands.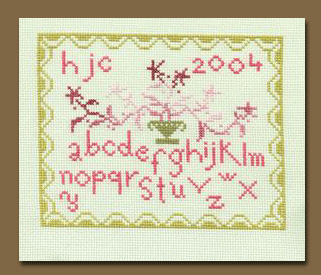 Hazel:
I live near Heathrow Airport and have been stitching for 20 years. I am a grandmother to two and retired. I love all craft work and am a craft judge for the Women's Institute. One of my other hobbies is gardening. I was so pleased to do the SAL for it got me back into cross stitch. My May Basket was done using DMC threads.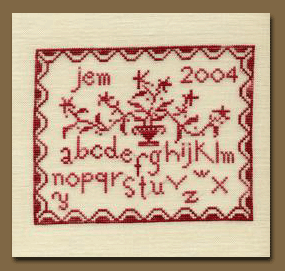 Joni: I am married, live in Lancaster, PA, and
I have been cross stitching for 20 years now.
I work at the local hospital in the admissions office and stitching is a stress reliever for me. I particularly like samplers and hope to get some big ones done someday.
Angela:

For the last 20 years (!) I've lived in Cyprus on a British Army Base. I am a Reflexologist and Yoga Teacher. I am a very proud mum of two children. My son, Alexis is 20 and at University studying Psychology and Forensic Science and my daughter, Rula, is 17. Rula has Downs Syndrome but worked really hard at school and passed all her exams and is now doing a Vocational Diploma in Office Administration. We are really proud of her achievements.
I decided to stitch May Basket for my sister's birthday and having friends to stitch with and set goals to work towards made it both very enjoyable and a project I did not want to put down.
Becky:
I live in Irmo, SC(USA).I have been stitching for about 25 yrs. I joined for the love of stitching about a year ago.And the name truly does reflect the love of this art. I have met some wonderful people in this group. Feel like we are friends and never even met in person. The SAL of the May Basket was so fun. Being able to keep up with each others progress, different fibers etc..We all have this "thing" for Blackbird designs. I worked my May Basket on a 32 count natural color linen with DMC 902.( one of my favorite colors!) Becky is off to Alaska on May 8th for a short holiday to celebrate her 25th wedding anniversary on May 8th. She is a real fan of Quaker designs and has stitched some really lovely pieces. Becky is trying to be incredibly brave as her eldest son, Micah who is a Marine, is off to Iraq in a couple of weeks.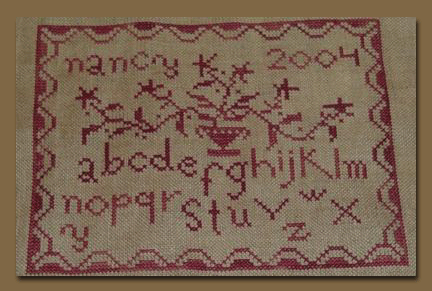 Nancy Rolander:
I am 49, married and have three daughters ages 18, 17 and 15. I live in South Carolina, although I spent most of my life in Virginia right across the bridge from Washington, DC. I started doing needlework when I was nine, and at that time I did the old fashioned style of embroidery. I started cross stitching in the mid-1970's, and I have enjoyed it ever since then. I must say that the threads, fabrics and designs you can find now make this hobby an even more pleasant. I try to spend a little time each day doing it - isn't it wonderful how it relaxes you!
Many thanks to these lovely ladies for sharing their stories and samplers with us! I think their next project is "Emblem of Friendship" from our newest cross stitch book Tokens of Friendship.

Happy Mother's Day and enjoy spring with some stitching of your own!

Alma and Barb